Montessori theory and methodology for working with adolescents (12-18 years)
will be the focus of this workshop. 
Lecture topics focus on the developmental needs of the adolescent and the components of an adolescent program, including the prepared environment, the role of the adult, and the plan of work and study.
Program will cover needs of newcomers and also participants of the workshop from last year.
Networking and sharing of experience between participants
will be included in the program.
October 29 - November 1, 2020
9am - 5pm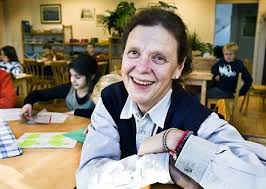 ABOUT THE SPEAKER - Jenny Hoglund
Jenny Marie Höglund is an AMI trainer for 6-12. She is AMI 3- 6 and 6-12 trained. In 1995 Jenny she founded a Montessori school in Swedish Sätile  Montessoriskolan Lära för livet, for children 1 - 16 years old.
Jenny has been a Montessori guide for more than 24 years. Her school and farm is the only location in Europe where you can train in the AMI Montessori Orientation to Adolescent Studies.
ABOUT THE SPEAKER - Patricia Pantano
Patricia Pantano is the Education Director at Camino de Paz, her own Erdkinder Prepared Environment in New Mexico, she has AMI training on the Primary and Elementary levels and a BA in Sociology from St. Mary's College, Notre Dame, IN. She studied and taught in Tokyo, Japan, for 2 years before teaching Montessori pre-school in 1975. She spent another 12 years at the elementary level in both public and private schools.
She was Middle School Coordinator and teacher at the St. Alcuin Montessori School in Dallas from 1986 -1998 and has worked with adolescents ever since. She believes strongly in the power of linking the adolescent to the real world. She is a member of NAMTA and AMI, a former board member of AMI-EAA and the Labyrinth Resource Group in Santa Fe. She plays marimba, piano and guitar, loves to sing, be outdoors and work with her hands.
WHAT WILL YOU LEARN?
Program will be tailored to the needs of the group. Once we have a full list of participants, we will run a short survey and finalise the offer. There will be two groups of newcomers and advanced, and time for sharing will be arranged for both within those groups and across experience. 
Thursday October 29, 2020 
08.30 – 10.00: Montessori's View on Development
10.00 – 10.30: Break
11.00 – 12.30: Importance of the Prepared Environment and the Prepared Adult
12.30 – 13.30: Lunch
13.30 – 15.00: The Contributions of the First Two Planes of Development 
15.00 – 15.30: Break
15.30 – 17.00: Characteristics and Needs of Adolescents Differences 
08.30 – 10.00: Prepared Environment for the Third Plane 
10.00 – 10.30: Break
11.00 – 12.30: Residential Life 
12.30 – 13.30: Lunch
13.30 – 15.00: Work as a Means for Development
15.00 – 15.30: Break
15.30 – 17.00: Work of the Hands
Saturday October 31, 2020
08.30 – 10.00: How to Frame Work and Study
10.00 – 10.30: Break
11.00 – 12.30: Work of Many Hands 
12.30 – 13.30: Lunch
13.30 – 15.00: Work as Production and Exchange
15.00 – 15.30: Break
15.30 – 17.00: Case Study    
08.30 – 10.00: Role of Adults Role of the Seminar 
10.00 – 10.30: Break
11.00 – 12.30: Importance of Self-Expression 
12.30 – 13.30: Lunch
13.30 – 15.00: Case Study 
15.00 – 15.30: Break
15.30 – 17.00: Outcomes – The Contribution of the Third Plane and Q and A