Prague Adolescent Workshop
Including Parallel Programs for Beginners and Advanced
and networking and sharing of experience.
Montessori theory and methodology for working with adolescents (12-18 years)
will be the focus of this workshop. 
Lecture topics focus on the developmental needs of the adolescent and the components of an adolescent program, including the prepared environment, the role of the adult, and the plan of work and study.
Program will cover needs of newcomers and also participants of the workshop from last year.
Networking and sharing of experience between participants
will be included in the program.
Jenny Hoglund from Sweden
Founder and Head of the Montessori Work and Study Program -
a Montessori Farm School in Satilla, Sweden.
The workshop is created and designed for people who run and are aspiring to run
adolescent Montessori programs in both urban and farm settings.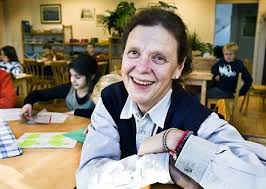 ABOUT THE SPEAKER - Jenny Hoglund
Jenny Marie Höglund is an AMI trainer for 6-12. She is AMI 3- 6 and 6-12 trained. In 1995 Jenny she founded a Montessori school in Swedish Sätile  Montessoriskolan Lära för livet, for children 1 - 16 years old.
Jenny has been a Montessori guide for more than 24 years. Her school and farm is the only location in Europe where you can train in the AMI Montessori Orientation to Adolescent Studies.